Supporters at Senate Committee Hearing On SB390
(Photo Courtesy Bob Brown, Richmond Times Dispatch)
In August of 2014, I organized a Hispanic Town Hall Meeting in Hybla Valley. I spent the first hour going over issues with constituents.
Then, I asked attendees for feedback - what was the #1 issue? Lack of government identification. Attendees said that they and their friends and family were weary of obtaining ID's from Maryland or not having them at all.
At the beginning of this session, I was approached by Virginia New Majority and the Virginia Coalition of Latino Organizations (VACALAO) about working together to bring this issue forward. I introduced
Senate Bill 390
that would have allowed the Virginia Department of Motor Vehicles (DMV) to issue a temporary driver's visitor's driver's license or identification card to anyone who met the following requirements:
Must show have lived in Virginia for one year.
Must file a Virginia tax return or claimed as a dependent on a Virginia resident's tax return.
Must pay a $53 fee for the initial card and $20 for every year thereafter.
These licenses would be conspicuously marked with language stating "NOT FOR FEDERAL USE" so it is clear that they are not compliant with the Real ID Act.
Similar legislation has now been passed in over twelve states: California, Nevada, Utah, Colorado, Illinois, Vermont, Connecticut, Maryland, District of Columbia, New Mexico, and Washington. Other states are considering it. Why is this legislation a good idea?
Another Supporter at the SB390 Hearing
(Photo Courtesy of Bob Brown,
Richmond Times Dispatch)


Reason #1 - Reducing Accidents By Teaching Rules of the Road
First, it would teach new residents in our state the rules of the road. According to the DMV, in other states where this has been implemented, over 80% of applicants fail the driving test and need to retake the test. Having informed driver's is good for everyone.
Data from California
showed that people without driver's licenses were three times more likely to cause a fatal accident. The states with the longest record of providing licenses to all residents have experienced nearly a 100% larger drop in traffic fatalities than the nationwide average. This legislation will save lives.
Reason #2 - Reducing Hit and Run Accidents
Second, there is a massive drop in hit and run accidents in states that have adopted these measures. Analyses by AAA have found that 41% of hit and run drivers lack a driver's license and that unlicensed drivers are
66.36 times more likely
to be hit and run drivers. When people do not fear prosecution they stop and collisions are dealt with appropriately through our system.
Reason #3 - Lowering Virginia Insurance Premiums
Third, this will have more people paying into Virginia's insurance pool. More insured drivers means risk spread among more people, fewer accidents with uninsured drivers, and lower premiums for everyone.
Reason #4 - Increase Interaction With Law Enforcement
Fourth, residents with government ID are much more likely to interact with law enforcement whether it's for car accidents, domestic violence or to come forward as witnesses for other crimes. It results in higher civic participation.
Reason #5 - Capturing More Tax Revenue
Fifth, it will result in significant tax revenue. There are an estimated 400,000 people who would benefit from this. If 80% of the estimated eligible Virginians sign up:
Virginia will collect $1.7 million in new licensing fees per year.
If each person were to claim $35,000 per year in taxable Virginia income, they would pay an additional $1,755 of state income taxes per person or a total of $561 million per year of new tax revenue.
If 200,000 new auto insurance policies are purchased for $1,000 per year, it will result in $225 million per year of new revenue.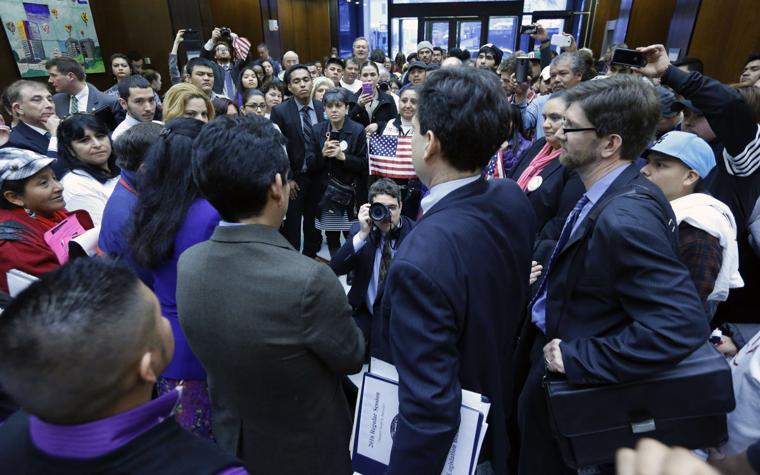 Speaking to Supporters After Hearing on SB390
(Photo Courtesy Bob Brown, Richmond Times Dispatch)
Reason #6 - Provide All Virginians A High Quality of Life
Sixth, this will allow people to enjoy a healthy quality of life. Licenses mean being able to take children to soccer games, drive to work, get a bank account, or get to the doctor, having a driver's license is a critical need for a Virginian to lead a quality life in our state.
The Way Forward
The legislation was supported by the McAuliffe Administration. The DMV has assembled a working group to talk through the issue and come up with consensus legislation. The group includes representatives from law enforcement, the immigrant community, faith groups, driving safety groups, criminal defense, courts, chambers of commerce, taxation, human trafficking, and local governments. I have included a list of involved organizations at the bottom of this post if you would like to contact stakeholders with concerns.
Hopefully, next year, this legislation will pass so that everyone living in Virginia can enjoy a healthy quality of life.
Groups Participating in DMV Working GroupVirginia Agribusiness Council
Farm Bureau
Hispanic Chamber of Commerce
New Virginia Majority
Coalition of Asian Pacific Americans of Virginia
The Commonwealth Institute
Sacred Heart Catholic Church
Human Trafficking Prevention
Drive VA Forward Coalition
Virginia Chief's of Police Association
Virginia Sheriff's Association
Virginia State Police
Virginia Department of Taxation
Virginia Municipal League
Virginia Association of Counties
Insurance Industry Representatives
American Automobile Association
DriveSmart Virginia
Federal Bureau of Investigation
American Immigration Lawyers Association
Supreme Court of Virginia
Virginia Association of Commonwealth's Attorneys
Office of the Attorney General
Virginia Chamber of Commerce
Virginia Employment Commission
Virginia Criminal Defense Attorneys